CHESSBAZAAR® WARRANTY INFORMATION
chessbazaar® provides a limited lifetime warranty* against any kind of manufacturing defects for all authentic chessbazaar® products. If a product has a manufacturing defect, chessbazaar® will (i) replace, or (ii) provide a warranty credit for the product (in case of a replacement product is not available due to some reason/s). The amount of the warranty credit shall be equal to the purchase price of the product paid.chessbazaar® reserves the right to inspect any product subject to a warranty claim to determine, whether the claimed defect is a manufacturing defect or otherwise.
Received a damaged or wrong item?
Don't worry, you can reach out to us for a replacement. You have 48 hours from the date the package is delivered to notify us that the item you received is faulty, damaged/tampered. If you have notified us within the specified time frame, we will ship the replacement item at the earliest. If you notify us after the time period has ended, chessbazaar® will not honor any damage item claims. Wrong items claim also must be made within 48 hours of delivery of the item.
Note: We offer plastic box complementary with some of the chess pieces so we won't be able to send you the replacement for the plastic box if it breaks in transit.
So what defects are covered as manufacturing defects?
Manufacturing defect covers cracking and warping only. (To claim this warranty, the customer must send at least three set photographs of cracked pieces or the defective area to sales@chessbazaar.com )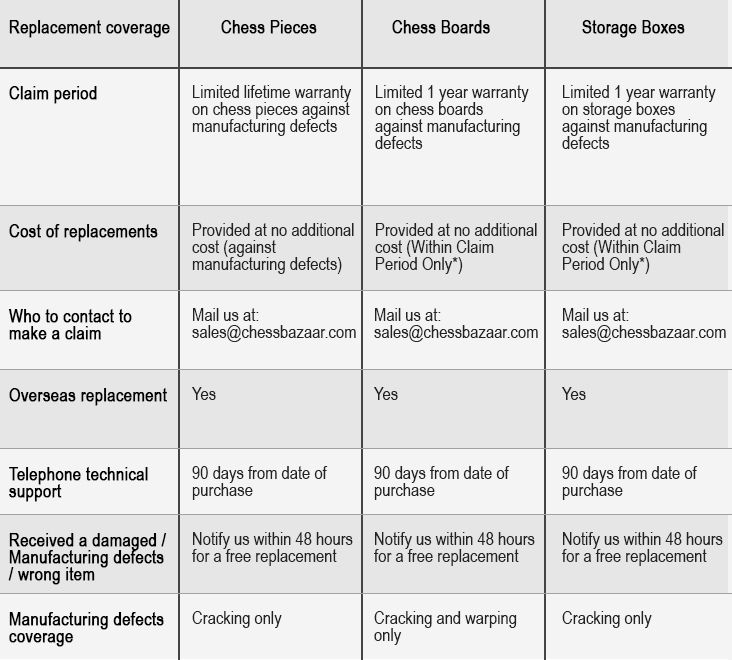 Note: If the board or chess pieces get tampered from external sources, the warranty will be considered void and null.
Terms and conditions
By submitting this warranty request, you agree to the following terms and conditions: in the case of fraud or misrepresentation, chessbazaar® reserves the right to deny all warranty coverage or claims. chessbazaar® reserves the right to determine, whether a defect is a manufacturing defect and what type of credit or replacement shall be issued.
chessbazaar's limited warranty covers only chess pieces(excluding plastic pieces), chess sets, storage boxes, and chess boards. Warranty does not extend to any collaborative partner products (such as DGT products etc), whether bundled or sold separately, or any product bearing a chessbazaar® packing but not actually manufactured by or on behalf of chessbazaar®. This warranty is also not valid on imperfect items.
Items purchased from the Clearance Sale & Imperfect Category only covers the replacement for in-transit damage & cracking. Warranty does not extend to a manufacturing defect & workmanship.
Please note that we at chessbazaar® periodically tweak styles of our products and cannot guarantee the exact replacement for any product after 1 year.
We serve you with high-quality products and if you ever have trouble with the maintenance of our products, we will be glad to help you. Know more